Brixton to Heathrow via Minicab

Q. Can I Pre Book A Minicab From Brixton to Heathrow Airport? Yes, You can book a minicab from anywhere in Brixton to Heathrow Airport, either online or by calling us on 0203 288 3001. Our London call centre is open 24 hours a day to assist you, so if you are planning your airport transfer to or from Brixton you can take advantage of our low cost car service that includes free flight monitoring for all Heathrow Airport pickups.

We work hard to offer the cheapest London to Heathrow minicab service anywhere in London, we do this by constantly monitoring fuel prices and updating our prices daily, we also utilise modern, efficient vehicles and train our drivers how to make the most of the vehicles economy.

Brixton latest Airport prices
We work hard to ensure our pricing is competitive, below you can see the latest prices for Brixton.
Brixton to Heathrow
from £61.00
Brixton to Gatwick
from £71.00
Brixton to Stansted
from £73.00
Brixton to Luton
from £79.00
Brixton to City
from £51.00
Brixton to Heathrow Airport: Transfers via Minicab

Our private hire minicabs offer a low fixed price London airport transfer to or from Brixton in London. All of our Heathrow minicabs are prebooked either online or by calling our call centre. If your Heathrow minicab is not prebooked, its not legal.

You can get an instant Heathrow minicab quote above or book your London Heathrow minicab direct with us by using our simple Heathrow minicab booking form, whether you are travelling from London to Heathrow for your family holiday or taking a connecting flight via Heathrow on business. Our Heathrow minicab service is available 24 hours a day, 365 days a year.

Our Brixton minicab fleet includes a wide range of vehicles including Saloons, Estates, MPVs & Minibuses. We constantly monitor fuel prices to ensure we can deliver an outstanding service at highly competitive rates.

Heathrow Airport Transfers via Coach

Heathrow Airport bus station serves London Heathrow Airport and makes travelling to Heathorow via coach a viable alternative to minicabs. The bus station provides local bus and long distance coach services and is located between Terminals 1, 2, and 3.

The Heathrow Hotel Hoppa runs 24 hours a day, with over 900 services a day taking you direct to or from any of Heathrow hotels direct to the Airport terminal.

For more information or to book your Heathrow coach transfer, please visit the Heathrow website.

Heathrow Airport Transfers via Train

Heathrow Airport has its own train terminal with direct Heathrow Express trains from London Paddington taking just 15 mintes. Tickets canbe pre booked via the Heathrow Express website.

For more information or to view the current Heathrow timetable, please visit the Heathrow Express website.
Brixton to Heathrow Minicab Service From SW8
Pre-book your Brixton to Heathrow Minicab well in advance for your peace of mind, give yourself more time for the good stuff like planning your holiday. Get your holiday off to a great start by making sure you book the correct size vehicle for your passengers and luggage and rest assured that we will get you to the airport in plenty of time for your flight.

Book your guaranteed Brixton to Heathrow pickup and drop off service well in advance and have complete peace of mind that you and your luggage will be collected with time to spare and transferred safely to or from the Airport, no stress and one less thing to worry about.

Our executive car service from Brixton to Heathrow is very popular with our business clients who need to ensure their journey from or to the airport is comfortable and stress-free. If you have business clients that need to be collected from Heathrow Airport, use a company that will give a great first impression, our drivers are smart, professional and friendly.
BOOK ONLINE
LOW COST SERVICE
RELIABLE, ON-TIME, EVERY TIME
FREE FLIGHT MONITORING
24 HOUR CALL CENTRE
Hotels Local To Heathrow
If you are taking a connecting flight or you are delayed at Heathrow for any reason and need a Hotel in the local area, you can book yourself into any of the hotels below, safe in the knowledge that they are covered by our Heathrow minicab service.
Heathrow Terminal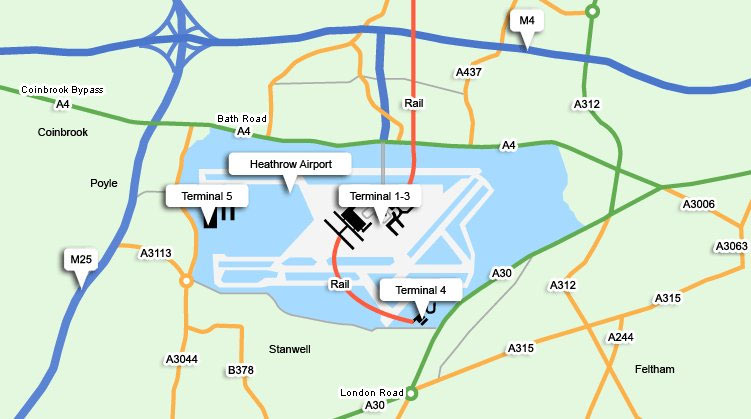 If you are planning on meeting friends or family at the airport, there are several landmark meeting points located throughout Heathrow Airport, for more details for your specific terminal, please see the official website: https://www.heathrow.com/arrivals/meeting-points